InnovAI8 - Shaping Tomorrow AI Summit Day 2 Breakthroughs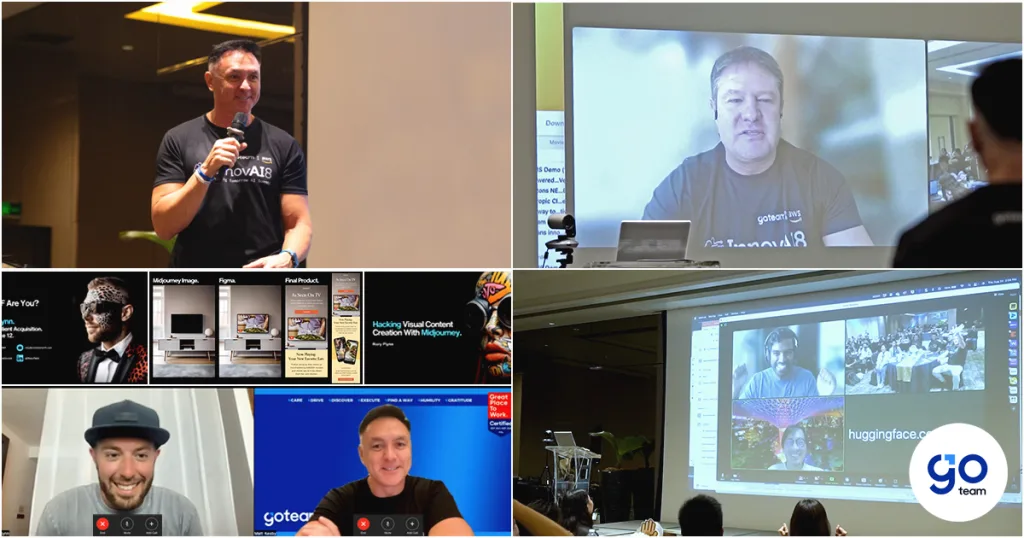 Welcome back to our AI Summit discoveries! 
The InnovAI8 – Shaping Tomorrow AI Summit has been incredibly exciting, and Day 2 was just as thrilling as the first. We had two amazing guest speakers, Rory Flynn from Midjourney and Derek Thomas from Hugging Face. Rory and Derek set the virtual stage on fire with their noteworthy AI insights and discoveries. As visible as it is, it made everyone eager to see what the future of AI holds. 
Now, we'll unfold all the interesting sessions and fun moments that took place during the second day of the AI Summit.  Let's relive the moment and rediscover the most compelling highlights of the day
Exploring The Pinnacle Moments From Day 2
Day 2 started with Rory Flynn, the Mastery of Marketers from Midjourney. He inspired the audience with his deep understanding of AI's role in revolutionizing marketing strategies. His insights showed how Midjourney's forward-thinking AI applications are redefining the way we conceptualize and create marketing campaigns. Thus, this AI approach also saves you valuable time in the process. 
Furthermore, Rory's session reaffirmed that the marketing landscape is swiftly developing towards an AI-generative future where AI doesn't merely support the process but fundamentally transforms it. 
Adding to Day 2's highlights was Derek Thomas from the most renowned AI hub community, the Hugging Face. As stated in my previous blog, Hugging Face has over 300,000 AI models all up and running on the internet. Also, this AI hub community has consistently pushed the boundaries of Natural Language Processing (NLP) technologies, which also added to the massive potential of AI.
Blazing New Trails - Matt and GoTeam Web Development Teams Redefining AI's Horizons
Besides the remarkable presentations of Derek and Flynn, Matt, along with the Web Development Team, also ignited the session by exchanging innovative ideas on GoTeam's upcoming AI-powered tools and applications. 
This ignited everyone's excitement as they unravelled the envisioned path of making GoTeam's services and operations smarter, more proactive, and more efficient through AI integrations. It's also worth mentioning that these forthcoming AI-powered tools are being designed to make an impact not only within our tribe but also aspire to set a new standard of productivity on a global scale. 
Indeed, the 2-Day AI Summit undoubtedly offers GoTeam a concrete route to enhance its technological innovations and, in the long run, will become the pioneering Results Enablement Organization with AI First Approach. Before wrapping up the 2-Day AI Summit, expressing sincere gratitude to everyone who helped make the event a huge success is important. We would want to give a special thanks to Matt, Ian Holtz, Derek Thomas, and Rory Flynn for their thought-provoking lectures that deepened and widened our understanding of the potential of AI. 
The Wrap-up - Decoding The Valuable Insights
As we gaze into the future, it is clear that AI will continue to shape and transform our world. Thus, it is worth remembering that harnessing its power will efficiently benefit our day-to-day activities.  
Indeed, the InnovAI8 Shaping Tomorrow AI Summit has set the stage for a brighter future, where AI and humans work hand in hand to solve the most complex challenges and unlock new possibilities.  
The valuable insights and breakthroughs shared during these two days are just the beginning of what promises to be an exciting journey towards a more intelligent and compassionate world. As we leave the summit with minds buzzing and hearts inspired, we can't help but feel privileged to witness GoTeam as the torchbearer of technological innovation and advancement. Certainly, GoTeam holds the potential to shape tomorrow in ways we can only dream of today. 
Before we bid goodbye, let's take a flashback tour of the captivating and delightful highlights from Day 2 of our AI Summit. You can also relive the moments on Day one as we stroll down memory lane together. Now, hop on!