Unlock the secrets to winning the war on talent with the power of AI! 🎯
Join the InterviewRoomAI x Webinar
23 August 2023 (Wednesday) at 9am PHT/Perth | 11am Sydney
30 August 2023 (Wednesday) at 11pm PHT | 8am PT | 10am CT | 11am ET.
Discover how AI-driven solutions can revolutionize your hiring process, secure your spot now!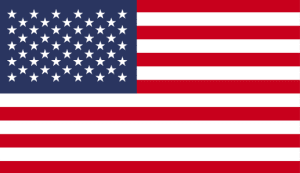 30 Aug 2023 (Wed),
8am PT | 10am CT | 11am ET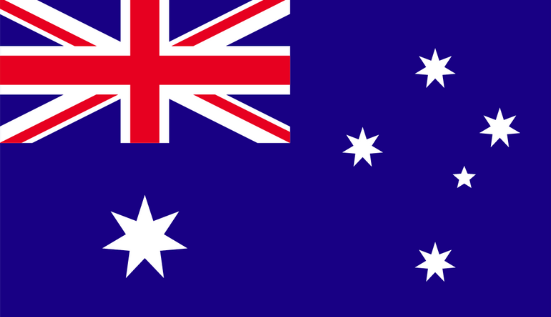 23 Aug 2023 (Wed),
9am Perth | 11am Sydney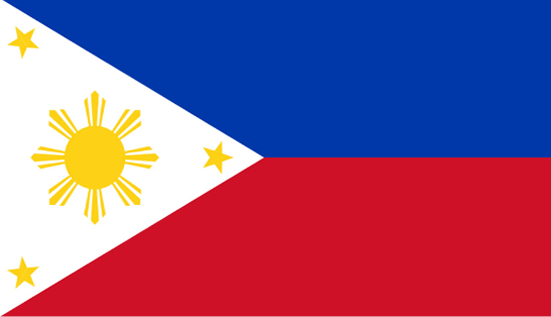 23 Aug 2023 (Wed), 9am PHT
30 Aug 2023 (Wed), 11pm PHT
Revolutionize Your Recruitment Process With AI-Powered Self-Interviews
Discover the power of Artificial Intelligence in your hiring, and attract top talents
– faster, easy and bias-free.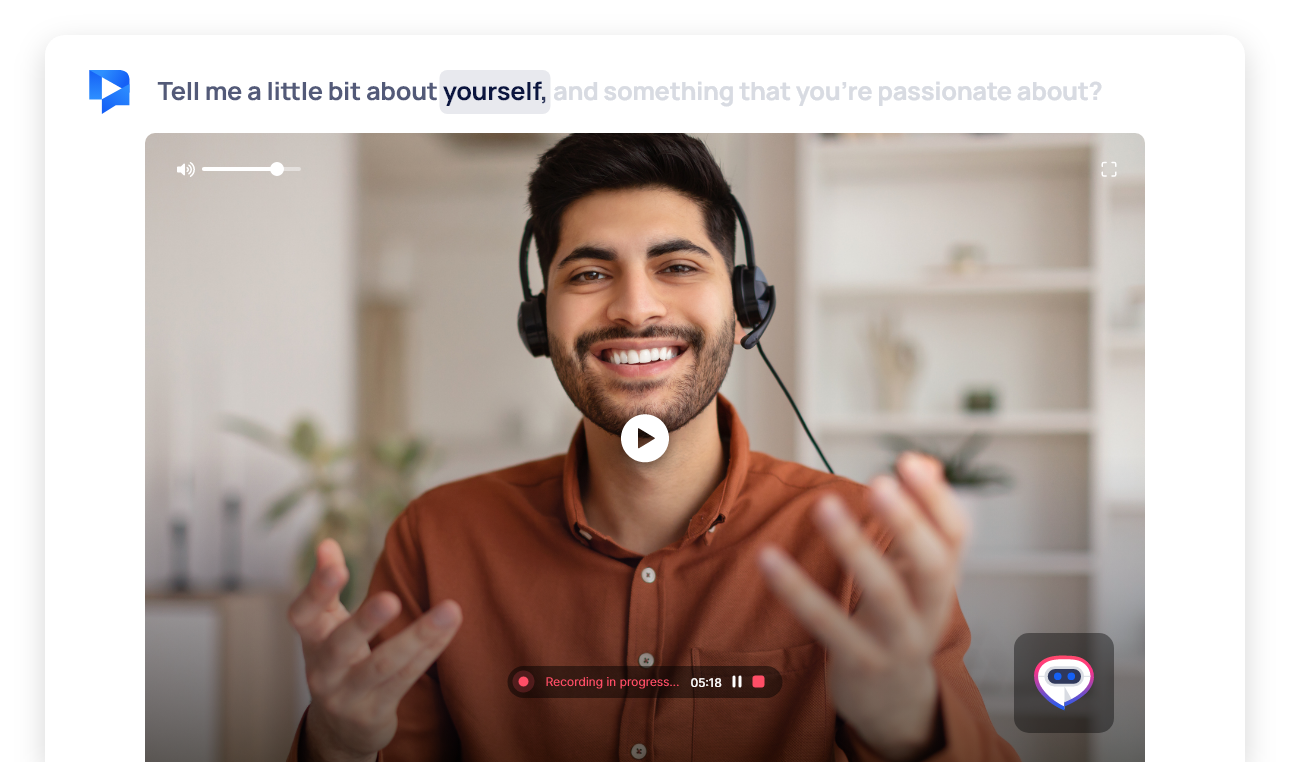 Fast-track

your hiring journey in few steps.
With InterviewRoom, you are clicks away from hiring your next team member that fits.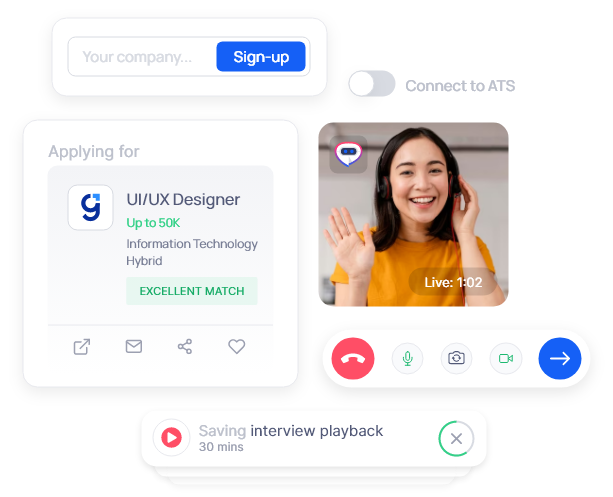 Sign up your company to InterviewRoom AI account.
Gain access to our powerful AI-driven interview platform.
Seamlessly integrate InterviewRoom AI with your preferred Applicant Tracking System (ATS) using our API. No ATS? No worries, you do not need one.
Let top talents discover your job openings, and apply.
Explore your job orders on your preferred channel. Attract a pool of qualified candidates eager to join your team.
Send them directly to self-interview room.
Empower applicants to engage in self-guided interviews that showcase their skills and qualifications.
Our advanced AI technology takes over. Trust in our system to deliver meaningful data for your hiring decisions.
Enabling
data-driven

decision-making.
AI-powered self-interviews generate valuable data and insights about candidate performance, response, and qualifications.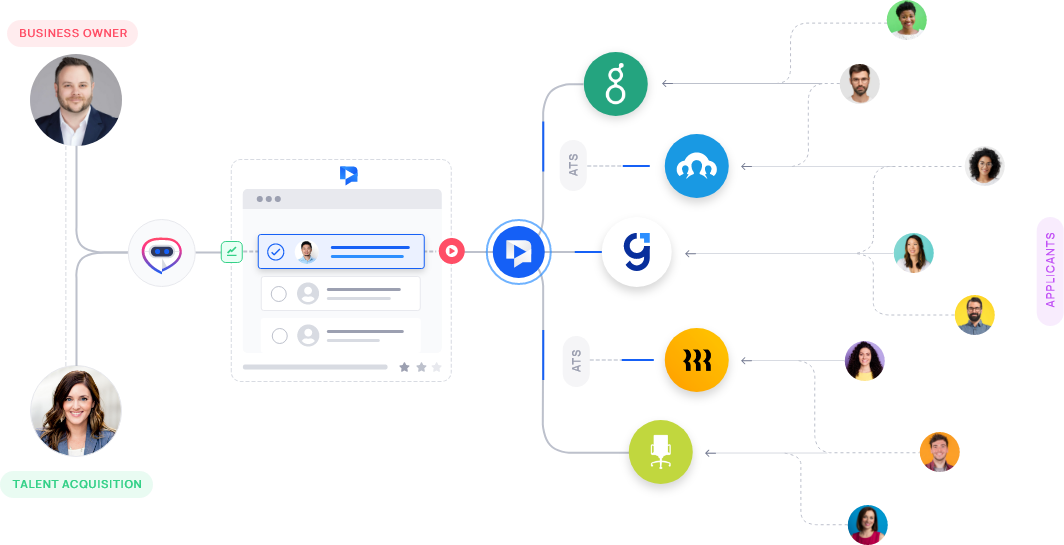 Increased daily volume of interviews.
Labour cost saved during end-to-end hiring process.
In time saved on interviewing applicants.
Job seekers have positive impression.
Extracting the best
candidate for you.
We help you identify desirable candidates using AI technology to bring the most transparent, reliable and non-biased decisions.
Get the best-match
candidates for your team.
An evidence-based and unbiased means to ensure fair and informed hiring decisions.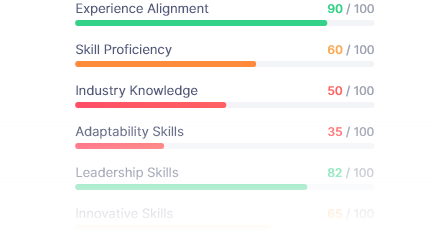 Identify if the candidate possesses the necessary skills and knowledge to excel in the role.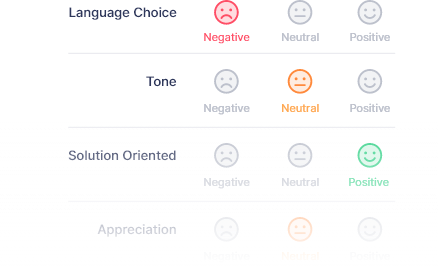 This uses reliable analytical methods to examine a candidate's behavioral and interpersonal competencies.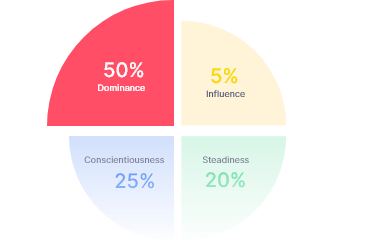 DISC profiles allow us to understand better how a candidate may perform in a work environment.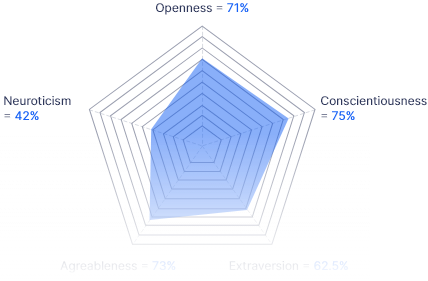 Offers valuable data to predict a candidate's potential for success and fit within your team and organization accurately.
Hiring software built for
faster growth

.
Pull in actuals from your selected Applicant Tracking System (ATS) like Greenhouse, Recruitee, ZipRecruiter and more..
Easily review interview recordings, navigate sections, and assess candidate response with the intuitive timeline.
Get a written recording of the interview for reference, analysis, and comprehensive evaluations.
Extract insights from candidate responses, tone, sentiment, and language patterns for a more profound understanding.
Evaluate multiple candidates qualifications and interview performance by comparing them side by side.
Objectively assess candidates based on predefined criteria to identify top contenders for the role.
Experience
the future

of recruitment today.
Harness the power of Artificial Intelligence to streaming hiring, make data-driven decisions, and attract top talent.
Supercharge Your Hiring Journey Today
Are you tired of sifting through countless resumes and spending valuable time conducting endless interviews?InterviewRoom AI is here to transform your recruitment process.
Unleashed the Potential of AI-Driven
With InterviewRoom AI, you can bid farewell to time-consuming and repetitive interviews. Our intelligent software analyzes resumes and credentials, tailoring interview questions directly to the job requirements.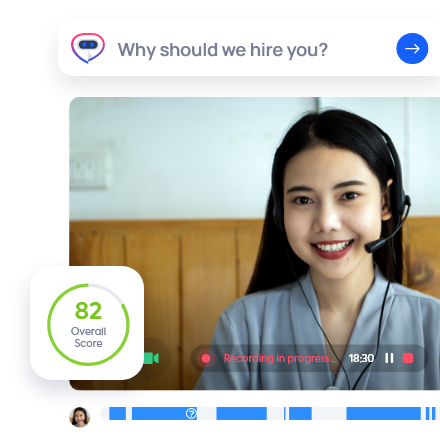 You can conduct highly personalized and relevant interview that give you a deep understanding of each candidate's skills and potential.
Your Gateway to Efficient and Effective Hiring
Experience recruitment like never before and simplify every step of the hiring journey through our user-friendly platform.
Ready to take your recruitment process to the next level?

Simplify your hiring process
Harness the power of AI to find the best candidates for your team.