Driving Innovation: GoTeam's Groundbreaking AI Summit Day 1 Highlights
GoTeam held an exciting AI Summit entitled "InnovAI8 – Shaping Tomorrow" in the heart of Cebu City. Matt's enthusiastic leadership guided the event, and it was actively participated by our remarkable GoTeam Web Development Teams. 
We kicked off the much-anticipated AI Summit with enthusiasm,  where we redefined limits, set new standards, and collectively envisioned the future of AI in our everyday work. We had brilliant minds joining us, and the day was filled with insightful sessions, passionate discussions, and the unveiling of groundbreaking ideas. 
Indeed, the AI Summit was a hub of knowledge where tech enthusiasts came together to explore the ever-evolving realm of AI and prepare for the promising future it holds. Now, let's hop into the first day's highlights of the AI Summit. 
A Glimpse Into The Future - AI Summit Day 1 Highlights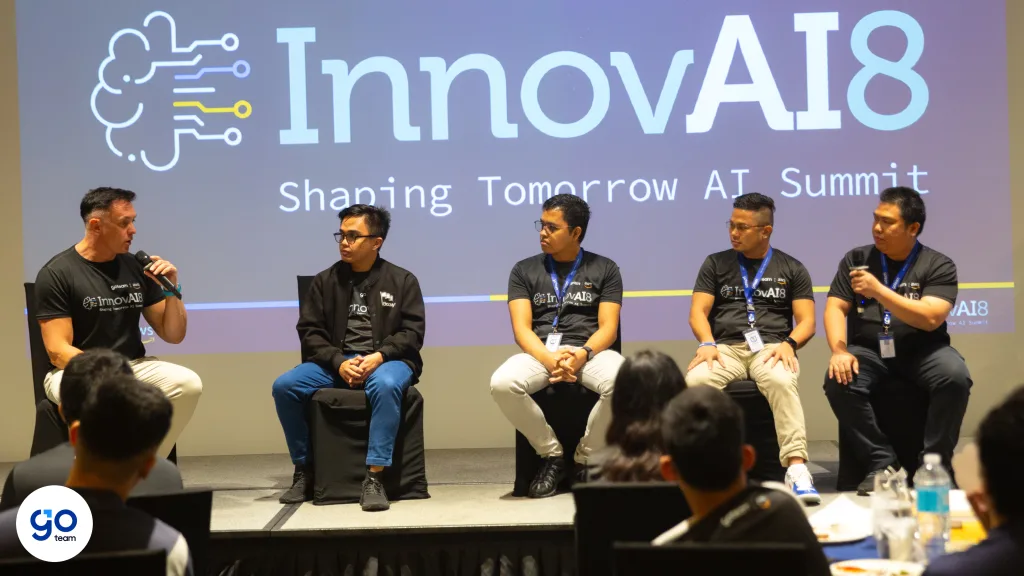 Matt, as the Chief Technology Officer and Founder of GoTeam, started the day with a handful of valuable knowledge and insights, all revolving around why we should never fear the transformative potential of AI. He emphasized that instead of fearing this revolutionary technology, we should learn to harness its power for progress and innovation. Moreover, he added that AI will never replace humans; instead, it is about expanding our capabilities and enhancing creativity in ways we've never imagined before. 
Drawing from his rich experience with GoTeam's AI-powered applications,  he showed many examples of how AI can help teams work together better, make tasks more manageable, and help the tribe grow. It's evident in the six AI-powered tools that Matt has brought to life along with the Web Development teams. Three of these innovative tools are already operational, enhancing daily tasks for the team members, while the remaining three are promising additions set to roll out soon.
His direct involvement in making these AI tools with the Web Development teams shows how GoTeam never stops aiming for excellence and innovation. Truly, his motivating words boosted the team's determination to move forward in this exciting AI era with eagerness and resolute commitment. 
Stirring the Journey: An Exciting Renowned Guest Speaker Takes the Virtual Stage
Ian Holtz, the Head of Amazon Web Services (AWS) across Asia Pacific and Japan, brought a wealth of industry knowledge and practical experience about the developmental potential of AI, specifically in the cloud-computing market. It enlightens the attendees on using AI effectively to accelerate organizational operations, enhance client experiences, and drive innovative growth within the tribe. 
Additionally, Ian has shared the unique keys to unlocking AI's full potential, such as adequate data management and the correct implementation strategy. Ian ended the discussion with a clear message: Embrace AI, understand its potential, and make it an integral part of your daily work and personal activities. 
Beyond the Summit - Taking AI to the Next Level
With this mind-blowing information on AI – at GoTeam, we firmly believe that understanding its ethical implications is crucial. AI's power should be utilized wisely, and we align it with our core values. This includes caring deeply about the success of our clients to push AI's boundaries effectively for long-term success. 
It is also imperative to highlight that the AI Summit was far more than just a convention. It ignited unwavering team collaboration and inspiration, wherein it offered a platform for Matt and the Web Development teams to exchange insights while fostering a dynamic environment through sharing their successes and failures in building AI-powered tools.  
Day 1 of the AI Summit set a strong foundation for an exciting journey ahead. The commitment demonstrated by our team has been phenomenally inspiring. We concluded with the affirmation that together, we can conquer future challenges and elevate AI technology to exceptional heights. Stay tuned for Day 2! 
While you're here, check out these fun photos we captured on Day 1!