Sustaining Productivity in Remote Teams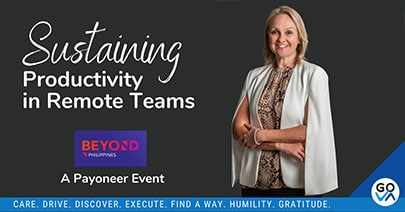 We are grateful to our friends in the cross-border payments platform Payoneer for featuring CEO Fiona Kesby in their Beyond Philippines webinar series! She shared the 3 core beliefs that kept the GoTeam tribe productive despite all the challenges of 2020.
Since last July, GoTeam has moved the monthly culture-building events, such as the CEO presentation and lunch, to a virtual conference platform. Tea with the CEO sessions, for new team members and those celebrating a successful probation period, are now held via Zoom. So are work anniversary celebrations.
These activities, supported by consistent communication (daily huddles and Daily Updates from Fiona) as well as training (like a session on building mental toughness) are among the ways GoTeam stays primed for the opportunities that are emerging.
Would you like to know how we keep our daily huddles effective? Check this out: https://go.globalofficeph.com/huddle-board