…and other useful advice for making the most out of video conferencing, now that we're all meeting, collaborating, and socializing online.

Like the doctor's clinic that we all want to avoid these days, a Zoom meeting can include a Waiting Room where participants sit until the meeting's host lets them in.
Once all the participants are in, it's now recommended for the host to lock the Zoom meeting, so that no uninvited persons can barge in.
Starting on Saturday, April 18,  the Zoom team has also promised that no data from free users outside of China will be routed through China.

Owners of paid accounts can choose which of the 8 data center regions they can opt out of, which means they'll have more control over which parts of the Zoom global network their data travel.

These security precautions are the video teleconferencing provider's response after a series of cautionary tales around using its services surfaced.

Every day last March, the number of meeting participants on Zoom has reached 200 million, on average. That's up from an average of 10 million daily meeting participants as of late December 2019.
Any venue that attracts such a large following can be a tempting target for mischief. Or worse. 
So far, the most visible risk has been Zoom bombing, which the FBI first warned about last March 30, after some schools in Massachusetts that were holding online classes got disrupted.

What is Zoom bombing?
It's gatecrashing a Zoom meeting to harass the participants "to spread hate and divisiveness, or to record pranks that will be later shown on social media." 
How do I protect my Zoom meetings from it?
Use a waiting room.

  That's now the default setting, along with using a meeting password

Avoid sharing your Personal Meeting ID.

Instead, generate a random Meeting ID when you schedule your event.

Don't share meeting links on social media posts

. Reach out to individual participants by private message instead.

Once everyone has joined, lock your meeting.

 
These changes are all part of growing pains for Zoom, which marks its first anniversary since going public on Nasdaq this April 18 as well. On its first trading day in 2019, its share price closed at USD$62, from a projected range of $28 to $32. 
Now that it has taken off in a time of quarantines and work-from-home policies, Zoom's share price has reached USD$141.89 as of April 14.
To reassure its fast-growing base of customers, Zoom Founder and CEO Eric S. Yuan said that the company has put on hold any new features and shifted "all engineering resources to focus on our biggest trust, safety, and privacy issues." 
What's happening to Zoom shows dramatically how the Covid-19 pandemic has pulled the rug out from under many businesses' feet—yet also created tremendous opportunities for others. 
Zoom's CEO admits that the company now faces challenges they did not see coming when they started the platform in 2011. 
Yet the challenge comes from the fact that Zoom now has "a much broader set of users who are utilizing the product in a myriad of unexpected ways."
In GoTeam, we are grateful that we get to use Zoom to join the daily update from founder Matt Kesby, as well as our weekly huddles with teammates.
One thing we're starting to do is catching up with teammates who work from home (via Zoom, naturally) to find out their tips for staying focused and powering through any distractions or interruptions in their workday. It's been a useful tool for our Results Coaches, who have transformed their daily one-on-one huddles into Zoom huddles, supplemented by a town hall-style meeting with the team.
How do I make Zoom meetings more pleasant?
If you're hosting a large meeting, enable Mute Upon Entry so that distracting noises are blocked. 

Disable private chat to prevent any unwanted messages during the meeting.

Along the same lines, disable video, except for that of the host.

Use a virtual background if you want your home office to stay private.

 Or if you want

to surprise teammates during their birthday, that works, too.
In Zoom's Best Practices for Hosting Digital Events webinar on April 16, 43 percent of participants said they were planning to use Zoom for training events. 
Here are some tips that will come in handy, whether we're using Zoom for training, an all-hands meeting, a product launch or an online event such as a press conference.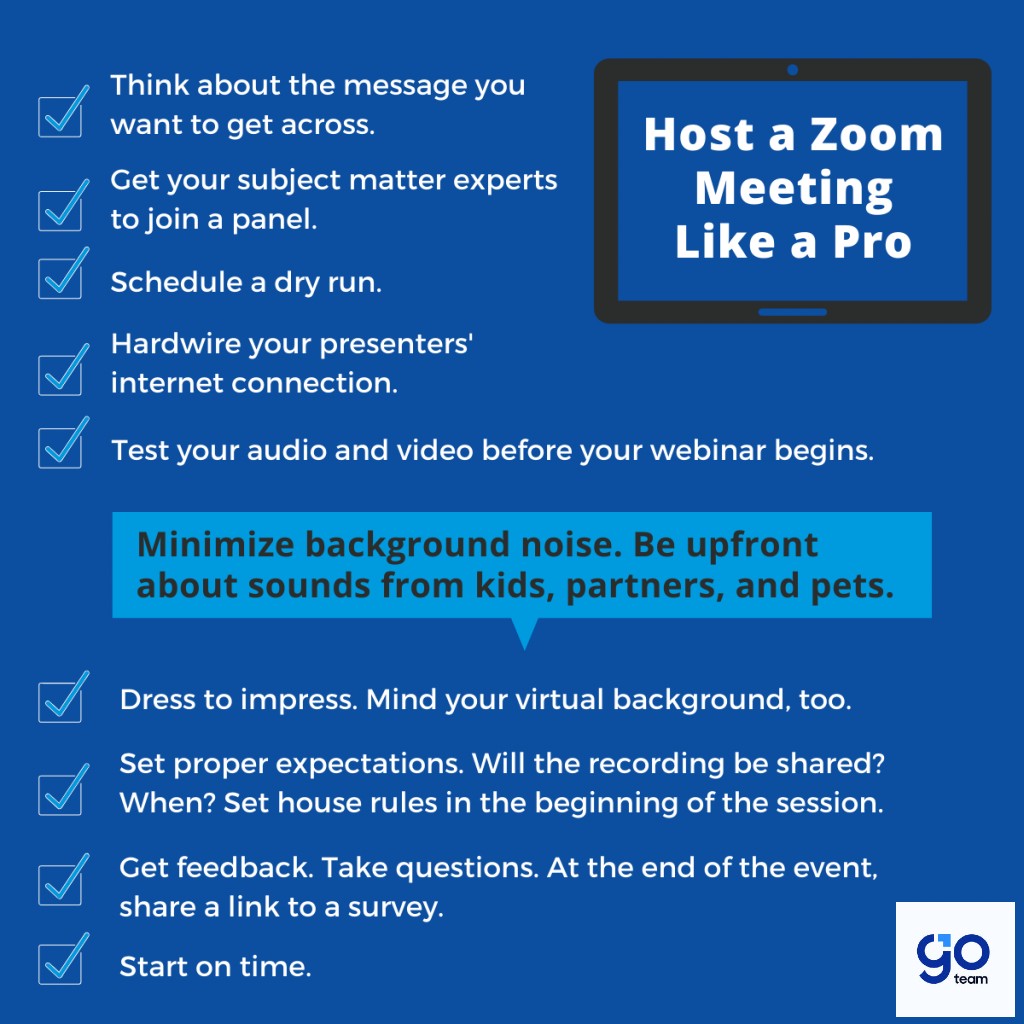 What other tips can you share to make Zoom meetings more effective? Or tell us about an inspiring or moving thing that happened during one of your recent Zoom meetings with your team. We'd love to hear about it!
For more tips about working with your own distributed team, reach out to us at sales@go.team.
We are GoTeam. Home of Your Global Office.

About GoTeam (formerly Go Virtual Assistants)
GoTeam, formerly GO Virtual Assistants (GO-VA) Inc. is a registered Australian-Filipino owned company growing in the heart of Cebu City, as well as a growing number of key cities in the Philippines.
Our HQ is situated in an IT complex with modern facilities, although since March 2020, more than 70% of our team members have been working from home.
Our enhanced operations and streamlined services provide scalable opportunities that spell sustainability, growth, and success for any business venture. As your global team members, GoTeam's goal is to create winnable games and strategies across all the work that we do, knowing that your success is our long-term fulfillment.
We help Australian, NZ, US, and UK businesses increase revenue, reduce costs, and scale through outsourced offshoring. This also creates for us the opportunity to be a catalyst for people to exceed.
AU (+61) 2 7227 8809
US (+1) 302 207 2767
PH (+63) 32 238 7448
9th Flr, i1 Bldg, Jose Ma. del Mar St, IT Park,
Cebu City, Philippines 6000
Website: https://go.team
Careers: https://go.team/ph
Email: sales@go.team
Email: careers@go.team