The first retention activity of 2018 was an Aussie Day-themed celebration in commemoration of the 230th Australia Day on 26 January. This is our grand kick-off for 2018, the Year of the Relentless Pursuit of Excellence.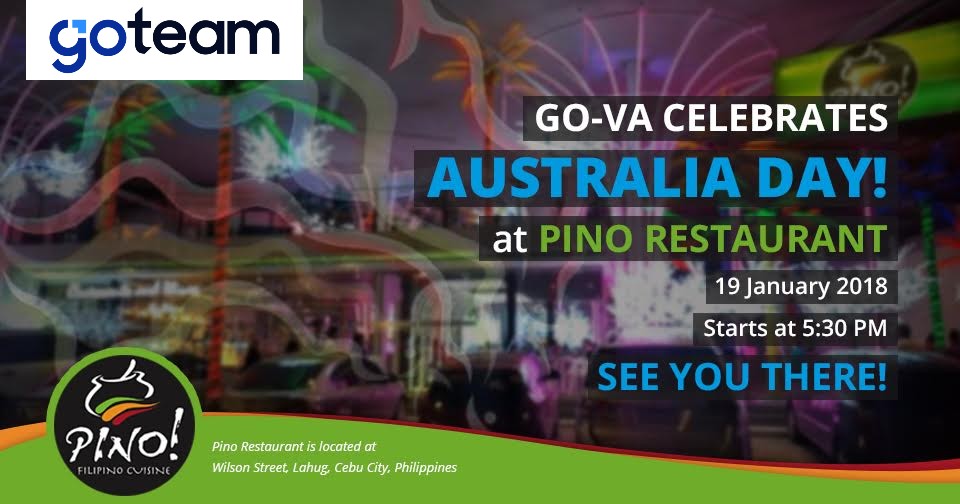 In behalf of our CEO Fiona Kesby and General Manager Marnie Aliviado, Operations Manager April Asufra thanked everyone who attended the event despite the heavy Sinulog traffic.
To whet everybody's appetite, an Aussie trivia game was played before dinner. It was a tight contest all the way, mixed in with plenty of cheering and good-natured rowdiness from each group. The competitive spirit was in full force. Ramping up the anticipation level, the winner was not declared until after dinner.
Everyone enjoyed the sumptuous dinner to the beat of live music from Pino's in-house singer.
Capping the night off was the much-anticipated contest winner announcement, and it was no other than the internal team. The team was very excited to come forward and claim their bag of goodies and cash prize.
Many thanks to Grace Sena, who did a remarkable job as emcee.
Celebrations are part of our culture here at GoTeam.–we always celebrate a month of productivity, greatness, & success. Our culture of happiness, driven by our values of Drive, Execute, Care, Learn, and Find a Way, makes our team the best in what we do. If you would like a remarkable offshore team or team member, book a discovery session now.
Your Offshore Workforce Partner, helping businesses scale and people to exceed.

About GoTeam (formerly Go Virtual Assistants)
GoTeam, formerly GO Virtual Assistants (GO-VA) Inc. is a registered Australian-Filipino owned company growing in the heart of Cebu City, as well as a growing number of key cities in the Philippines.
Our HQ is situated in an IT complex with modern facilities, although since March 2020, more than 70% of our team members have been working from home.
Our enhanced operations and streamlined services provide scalable opportunities that spell sustainability, growth, and success for any business venture. As your global team members, GoTeam's goal is to create winnable games and strategies across all the work that we do, knowing that your success is our long-term fulfillment.
We help Australian, NZ, US, and UK businesses increase revenue, reduce costs, and scale through outsourced offshoring. This also creates for us the opportunity to be a catalyst for people to exceed.
AU (+61) 2 7227 8809
US (+1) 302 207 2767
PH (+63) 32 410 7523
HK (+852) 302 203 9009
9th Flr, i1 Bldg, Jose Ma. del Mar St, IT Park,
Cebu City, Philippines 6000
Website: https://go.team
Careers: https://go.team/ph
Email: sales@go.team
Email: careers@go.team