7 Powerful Strategies to Energize and Empower Your Remote Teams
Remote work and flexible arrangements are here to stay. While this comes with uncertainties, one thing is for sure: managers must provide hybrid and remote teams with guidance and support. While it can admittedly be challenging to manage these teams while fostering cohesion, maintaining high morale, and increasing retention, managers can still find creative ways to bind teams together, regardless of where their people are located. 
Technology has made numerous tasks possible, with robust new tech including AI-powered tools that make it easier for remote employees to connect with colleagues and managers productively. However, the leadership and true unifying force that your remote employees require cannot be provided by technology. That depends on you. 
Here are seven ways to manage remote teams:
A. Increase the intensity of your communication efforts.
A workforce's lifeblood is consistent, informative communication. Plan frequent web meetings with project teams to assess how they are doing with their objectives. Overcommunication works better for remote or hybrid teams. Make an extra effort to inform distant workers about corporate and departmental developments.
GoTeam makes use of Microsoft Teams to meet with team members, Zoom for webinars and the Daily Huddle from the Huddleboard App which is a venue for all team members to meet and give updates of the tasks that they are doing for the day and giving a glimpse of what they will be busy with for the whole week. It's a venue where each team member is seen and heard because one can air out concerns or roadblocks so that he or she can move on with a task.  

Regularly check in with remote workers to gauge their general well-being and determine whether they may be experiencing isolation. Offer any news and advice you may have, no matter how brief the update or whether there is any news to report.
Within the HuddleBoard App is the structured 1:1 wherein the coach or team leader meets up with a team member weekly to check on how he or she is doing. The 1:1 is a venue where a team member can talk to a coach honestly and openly about a concern or anything that is troubling his or her mind without any fear of being judged or ridiculed. It is a safe space where one's feelings are heard.
This is then followed by action steps to resolve the team member's concern then move on to the metrics that matter. This is for team members to feel a sense of progress to promote happiness and winning.  

C. Give room for some flexibility.
Inform your employees that you are fine with them varying their work hours as much as possible. Let them know it's perfectly okay to send a brief email to let someone know they went outside for a quick walk or to run a quick errand.
With the different locations and lifestyles GoTeam team members lead, running errands during a working day is inevitable. For example, one may need to leave for about an hour to fetch his or her child from school around 3:00 or 4:00 PM. Such a reason is valid and understandable so long as the leader or coach is informed ahead of time and will continue to work on the remaining hours to complete the shift once back from the errand.  

Ensure that crucial information such as production schedules, project timelines, and background materials can be accessed by all remote workers in a single online area, such as SharePoint, Smartsheet, Dropbox, Google Docs, or a wiki. Use a shared online calendar for the most up-to-date schedule information.
For email communications, GoTeam makes use of Outlook complete with its features that allows one to send and receive messages, manage calendars, store contact names and numbers and track tasks. When it comes to organising files, GoTeam makes use of SharePoint for quicker and safer storage of documents. For tasks, DoThis.To app keeps track of all assigned tasks a team member has with the capability of being categorised as a to do daily, weekly, monthly, for review, done or completed. One can also key in remarks and share with other team members who need to be updated its status.
DoThis.To can also store procedures made by process engineers of your team so everyone can access these courses for their information, reference and additional knowledge. The best part is all courses are free for any GoTeam member to take anytime!
E. Don't let technology fail.
Talk about how people feel technology is assisting or impeding their job on your frequent conference calls. Ask them the tools they utilize to stay connected and productive, as well as specific characteristics of those tools.
GoTeam is all about unleashing the potential of their team members. Thus, the development of AI tools that make sure this indeed happens. Early this year, everyone was introduced to the wonders of ChatGPT and encouraged to make use of it to quicken, increase and maximise output.
Just recently, GoTeam has launched GoTeam ChatGPT Bot, a powerful AI tool designed to help team members develop and sharpen their critical thinking skills. Unlike ChatGPT, which stores any information input into its language model, GoTeam ChatGPT Bot is trained exclusively on the information that it's provided. Sources include Source Wiki and Dothis.To courses and procedures, ensuring that data remains private and secure.
More AI tools are set to be released namely the GoTeam AI Coach, RealPay which is an AI powered role playing of salespeople with augmented deal room and the Interview Room which are AI powered interviews. These are definitely exciting times up ahead! 

F. Pay special attention to new remote employees.
If someone has never worked remotely before, they could feel particularly disoriented or nervous when they begin but remember that remote workers still benefit from collaboration and teamwork in the workplace.
Once people join an organisation, what happens on the first day is crucial as it sets the foundation of what the team members can expect. This is why GoTeam's onboarding sessions consists of both office-based and remote hires together.  The remote hired team member is emailed a Zoom link to be able to attend the onboarding held at the Discovery Room of GoTeam office in Cebu, facilitated by the Discovery Team.
They go through a full induction and commence with key metrics designed with client at the beginning of engagement. Together, office-based and remote hires come to culturally understand what it means to win and deliver in the organisation. They can start to execute on the highest priorities on the first day as well as get clarity and confidence needed to execute on the highest priorities. Process engineers are also available to help de-construct what it means to work with excellence on the roles you require.  

GoTeam believes in building a culture of trust by learning how to communicate around the 13 Behaviors of Trust identified by FranklinCovey. These behaviors encompass a combination of character and competence, providing a comprehensive framework to cultivate and strengthen trust in their interactions.
Character-Based Behaviors:
1. Talk Straight: Communicate clearly and honestly without withholding information or distorting facts. 
2. Demonstrate Respect: Treat others with fairness, kindness, and civility, showing genuine concern for their well-being. 
3. Create Transparency: Be authentic, genuine, and truthful, avoiding pretense or obscuring information. 
4. Right Wrongs: Take responsibility for mistakes, make amends, and demonstrate personal humility. 
5. Show Loyalty: Give credit to others, represent them fairly, and avoid speaking negatively about them.
Competence-Based Behaviors:
6. Deliver Results: Consistently achieve desired outcomes, meet deadlines, and take responsibility for successful performance. 
7. Get Better: Continuously learn, grow, and adapt to succeed in a changing environment. 
8. Confront Reality: Address difficult issues openly, facilitating problem-solving and harnessing collective creativity. 
9. Clarify Expectations: Establish shared vision and clear agreements, ensuring mutual understanding. 
10. Practice Accountability: Hold oneself and others responsible for actions and commitments. 

Competence-Based Behaviors:
11. Listen First: Understand others' thoughts and feelings before offering advice or judgment.
12. Keep Commitments: Honor promises and fulfill obligations reliably.
13. Extend Trust: Cultivate trust by appropriately granting it to those who have earned it and fostering a culture of trustworthiness.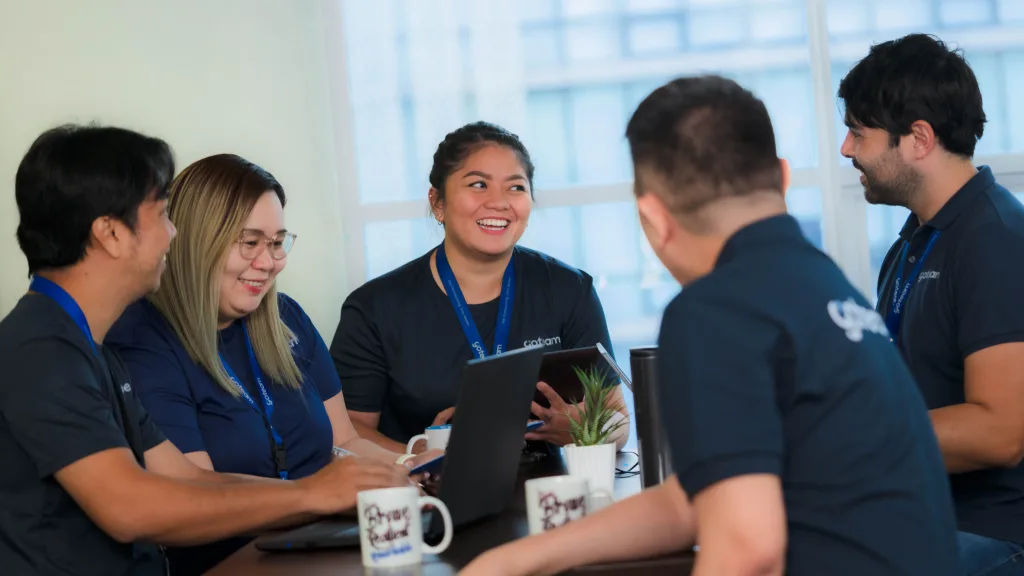 Remember that overall, your encouragement, leadership, and trust will go a long way toward encouraging your remote workers to produce their best work and to feel a part of the team and the business.  
 
If you are thinking of getting a remote team to handle your tasks, partner with an outsource service provider that has years of experience in offshore outsourcing and in this case, GoTeam makes a remarkable choice. With headquarters located in Cebu City, Philippines, they have been living true to their mission of helping businesses scale and being a catalyst for their people to exceed since 2014.
GoTeam gives you the peace of mind that your offshore business is being run by locally based experts adept to a wide range of tasks that are not just limited to admin. Outsourcing to GoTeam gives you more dependability and better results, yet none of the hassles of setting up an offshore company yourself.
Discover what GoTeam Philippines can do to grow your business. Get your own remarkable team!